As a nonprofit organization, the People's Pier™ presents an array of captivating activities and experiences that will ignite your imagination, enliven your senses, and uplift your spirit. Its enduring charm has been inspiring discovery and wonder for over a century. Come and explore what awaits to spark inspiration in you.
What to do at Navy Pier
Navy Pier takes immense pride in providing a wide-ranging assortment of thrilling events and engaging public programs all year long. Our extensive event calendar caters to diverse interests, featuring everything from mesmerizing firework displays and live music to captivating theater, art exhibitions, dance performances, cultural festivities, serene lake cruises, and enjoyable activities for kids.
Indulge at Navy Pier Restaurants
Navy Pier not only offer an impressive array of activities and events but also takes immense pleasure in satisfying your culinary cravings with a delightful selection of restaurants that will indulge your taste buds.
Whether you are looking for a quick bite or a fine dining experience, Navy Pier's restaurants have something to offer for every palate. From mouthwatering street food to gourmet cuisine, our diverse dining options ensure a delightful experience for visitors of all ages.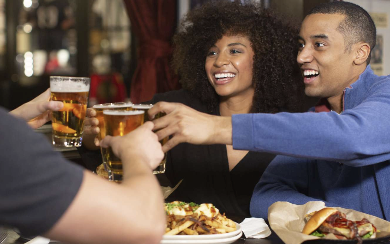 For those seeking an authentic taste of Chicago, make sure to stop by the iconic "Chicago-style" hot dog stands or indulge in the famous deep-dish pizza, renowned worldwide for its hearty and flavorful appeal. These local delicacies are sure to leave you wanting more.
If you prefer international flavors, Navy Pier boasts a diverse range of restaurants offering cuisine from all around the globe. Savor the rich and aromatic spices of Indian cuisine, indulge in the savory goodness of Italian pasta and pizza, or relish the delicate flavors of Japanese sushi and sashimi – the choices are endless.
For a touch of elegance and sophistication, our waterfront restaurants offer breathtaking views of Lake Michigan, creating a truly memorable dining experience. Enjoy your meal while basking in the beauty of the Chicago skyline and the shimmering waters, making it a perfect setting for a romantic evening or a special celebration.
Families with children will also find a variety of kid-friendly eateries where little ones can enjoy delicious and wholesome meals while having fun with themed menus and entertainment.
Navy Pier knows that food brings people together, and that's why we are committed to providing an exceptional culinary experience that complements the excitement and joy of your visit. So, whether you're looking for a quick snack, a casual meal, or a gourmet feast, the restaurants at Navy Pier are here to tantalize your taste buds and make your visit even more memorable. Come, dine with us, and savor the flavors of the world right here at Navy Pier. Vist the Navy Pier website for more information.